UPF advantages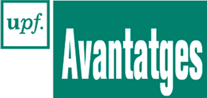 If you become an Alumni member you will be able to enjoy discounts on holidays and travel, restaurants and food, clothing, footwear and accessories, perfumes and cosmetics, technology and much more!
How can I receive the discounts?
Go to Club Avantatges UPF.
Check out the offers and download the coupons for the offers you are interested in!
Who are we?

Collaborate

Activities

Services

Clubs
Who are we?

Collaborate

Activities

Services

Clubs
Agenda
Location
Balmes, 132-134
08008 Barcelona
+34 93 542 19 04
Hours:
Monday to Friday 9:00-14:30/15:30-19:00